Pedestrian tourist signaling plan for Barcelona
A plan for the coexistence of tourists and neighbors in the city of Barcelona
The Barcelona City Council was one of the first local administrations to comprehensively undertake the improvement of its pedestrian tourist signage system, being a pioneer in the development of signage master plans. In 2012, the first pilot plan was drawn up for the Horta-Guinardó district and Sismotur was awarded the contract to develop it.
The objective pursued by Barcelona in the design of a new system of pedestrian tourist signage was twofold: on one hand, to decongest heavily visited tourist areas (particularly in the Sagrada Família's area) by proposing access routes to new "tourist poles" attractive to visitors and, on the other hand, to design a signage system that also took into consideration the pedestrian mobility needs of its citizens..
With the first signage master plan for Horta-Guinardó, a structured methodology was initially defined for the drafting of the master plan: definition of the road network, hierarchy of tourist resources and facilities for the citizen, analysis of signposting itineraries for access to the poles and criteria for the selection of mentions. Subsequently, a new signage manual was drawn up with the particularity of using a double color: brown for tourists and blue for services and facilities for citizens. The manual contemplated the connection of metro stations with the main tourist poles.
The study was carried out with Sismotur's web service Signing, , which made it possible to incorporate all the information associated with the master plan: road network, poles, signage itineraries, crossing cards of signposted mentions, existing signs and proposed new designs.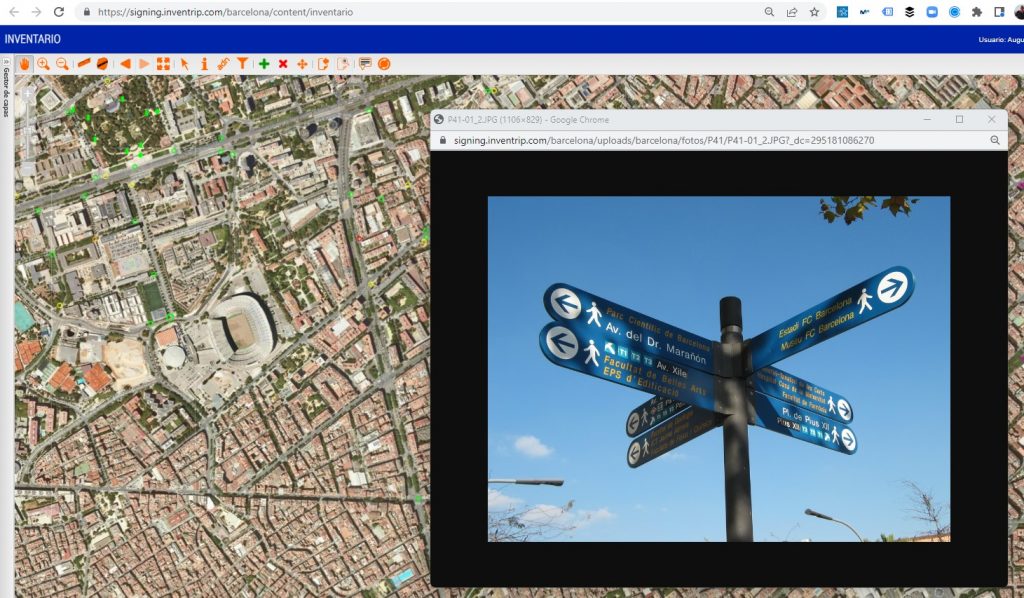 This study was the first time that the Off (tourist signs) / On (digital content) connection concept was proposed, with the proposal of signage equipment equipped with QR codes. This initiative was the prelude to the intelligent tourist signage that Sismotur later proposed in Segittur's white paper on Intelligent Tourist Destinations using Beacons technology.
Subsequently, Sismotur was awarded the contract for the drafting of the signage master plans for the districts and neighborhoods of: Ciutat Vella (Raval district), Les Corts, Nou Barris, l'Eixample, Sants-Montjuic, completing almost the entire central area of Barcelona.
In total, 500 sets of directional signs were designed, which also incorporated 1000 maps, two per sign, with contextualized information according to the location with points of interest for tourists (brown map) and facilities and services for citizens (blue map).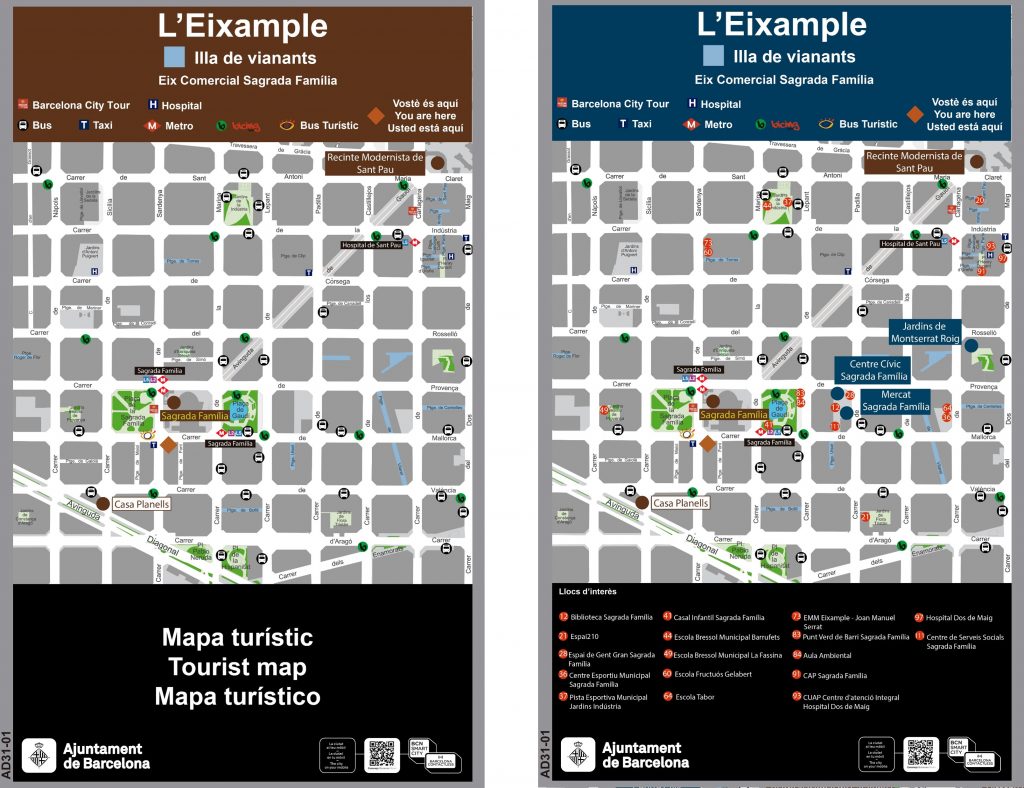 Finally, the hierarchy of tourist resources used to draw up the master plan for tourist signage in Barcelona, as well as the plan for tourist road signage also drawn up by Sismotur for the Catalonia region's tourism authority, was the source of information for the publication of the Inventrip of Catalonia service, transforming the accessibility of the signage into zoom levels in the digital vision.